Invisalign® Clear Aligners – Atlanta, GA
A Clear Path to
a Straighter Smile
Plenty of people want straighter teeth but are unhappy with the idea of getting braces. Depending on how complex your orthodontic issues are, you may be eligible for a subtler, more comfortable way to improve your smile: Invisalign clear aligners. Dr. Everson can provide you with practically invisible aligners that make for a more attractive, more comfortable alternative to noticeable brackets and wires. Call us today to schedule a complimentary consultation and find out if Invisalign clear aligners in Atlana, GA are your best option.
Why Choose Buckhead Orthodontics®
for Invisalign Clear Aligners?
ABO Certified Orthodontist
Private Family-Owned Orthodontic Office
0% In-House
Financing Available
What Are Invisalign® Clear Aligners?
When we talk about Invisalign clear aligners, we are referring to clear plastic trays that have been specially molded according to the shape of your teeth. These aligners are designed to put gentle pressure on specific points within the mouth. By wearing your aligners for 20 to 22 hours a day, they slowly move your teeth to where they need to be. You can take out Invisalign aligners to brush your teeth or eat.
Advantages of Invisalign® Clear Aligners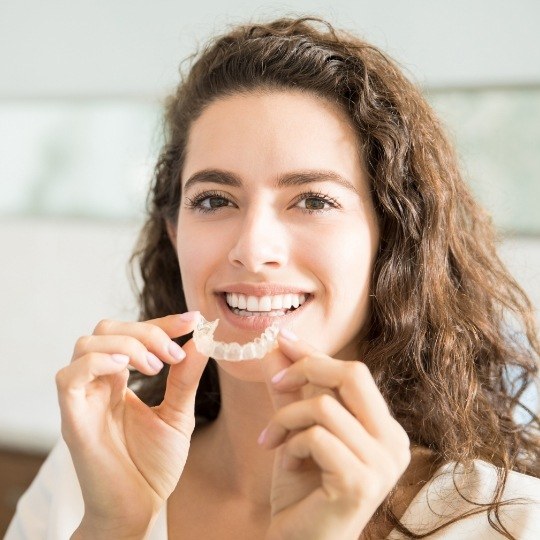 Improved aesthetics thanks to aligners that practically disappear when worn on the teeth
No dietary restrictions since the aligners can be removed
No changes to your oral hygiene routine
Improved comfort thanks to the use of smooth plastic instead of metal wires and brackets
No adjustments required
Average treatment time is between 12 and 18 months (in contrast, braces may need to be worn for 2 to 3 years in some cases)
Invisalign Teen®
Clear Aligners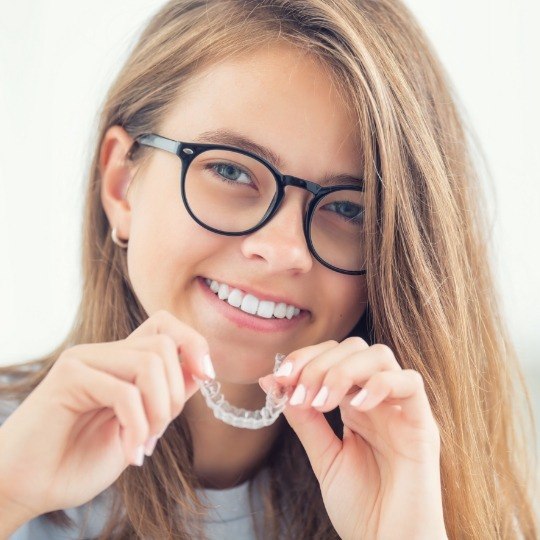 Did you know that there's an Invisalign treatment designed for teens? Each aligner comes with a special dot near the back that changes color from clear to blue to white depending on how often the aligner is worn. This way, you have a concrete way to make sure that your child is complying with their treatment. Also, with Invisalign TEEN, you'll be given a greater number of replacement aligners in case something goes wrong during the treatment.