Traditional Braces – Atlanta, GA
A Tried and True
Smile Solution
Dr. Everson has been trained to use many kinds of orthodontic appliances, but in many cases, the traditional options are still the best. Metal braces remain as reliable as ever when it comes to transforming smiles to improve confidence, oral function, and overall quality of life. While braces are often recommended for younger patients, adults can benefit from them as well! Call Buckhead Orthodontics to schedule a complimentary consultation, so we can start planning you or your child's orthodontic treatment with traditional braces in Atlanta, GA.
Why Choose Buckhead Orthodontics
for Traditional Braces?
ABO Certified Orthodontist
State of the Art Boutique Orthodontic Office
Flexible In-House Payment Plans
Benefits of Braces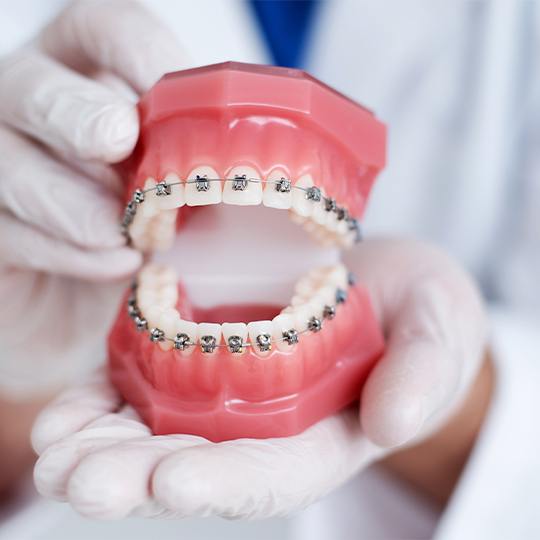 Wearing braces to correct any number of mild to severe orthodontic problems can help you:
Overcome speech impediments that might be caused by the positioning of your teeth
Prevent misaligned teeth from wearing down at an accelerated rate
Improve your ability to chew food, thus improving digestion
Reduce your risk for tooth decay by making it easier to brush and floss
Boost your confidence by giving you a smile free of crooked teeth and similar imperfections
The Procedure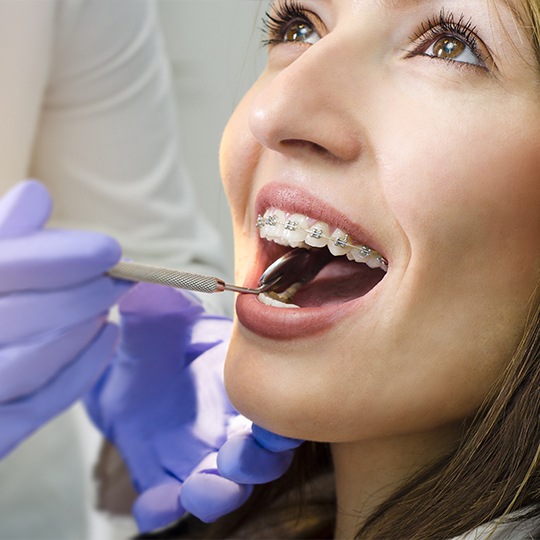 You're probably already somewhat familiar with how braces work. Metal brackets will be attached to the front of your teeth. An archwire will be tied to the brackets via several elastic bands. The archwire will apply pressure to the teeth, which is what causes them to move. You'll need to attend regular visits every 4 to 8 weeks so that we can adjust your braces. Metal braces are normally worn for around 18 to 24 months, though it could be as long as three years for problems that are harder to correct.
Self-Ligating Braces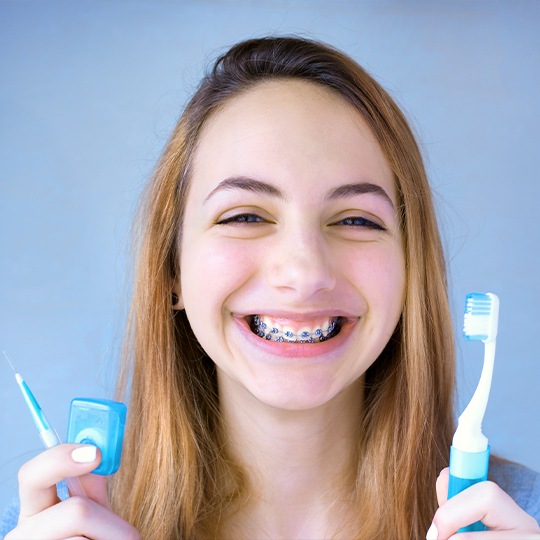 With self-ligating braces, the archwire is held in place with clips instead of elastics, meaning they don't have to be "tightened" in the same manner as traditional braces. Hence, patients with self-ligating braces generally need fewer appointments, and the appointments that they do have are usually much shorter as a result. The lack of elastics also tends to make self-ligating braces more discreet than traditional braces.
Clear/Ceramic Braces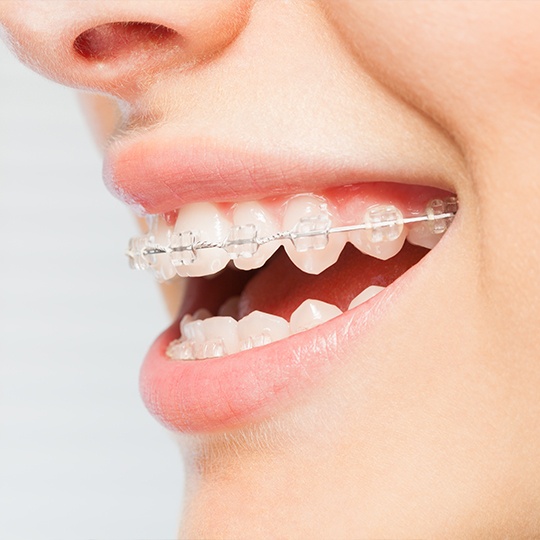 Clear/ceramic braces are exactly what they sound like: braces made from a clear or ceramic material. The brackets will either be made from a translucent material that lets you see the tooth behind them, or they will be shaded to match the color of the enamel. This gives them an overall more subtle appearance compared to regular braces, so you can feel more comfortable smiling for photographs or when meeting people for the first time.
Advantages of Ceramic Braces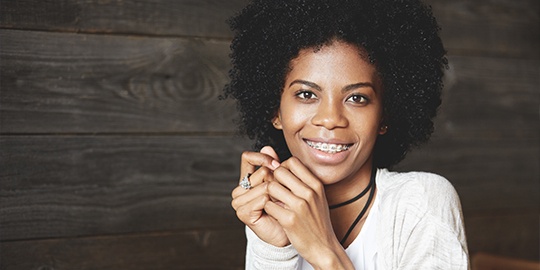 Like clear aligners, ceramic braces are a more image-friendly alternative to traditional braces. However, while clear aligners are somewhat limited in the corrections they can make, ceramic braces are suitable for addressing complex alignment problems in the teeth and bite. They are also better for those who might be prone to forgetting or losing clear aligners; ceramic braces are fixed in place, so there is no risk that a patient will lose track of them.
Candidates for Ceramic Braces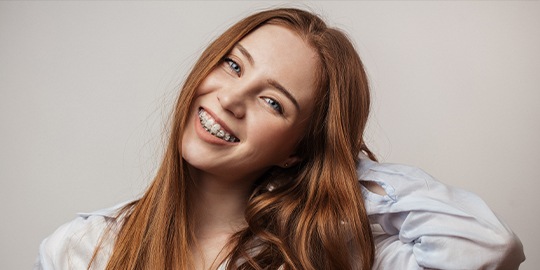 Ceramic braces are often a good option for older teens and adults who want a subtle orthodontic treatment. Generally, if you're a good candidate for traditional metal braces, you're likely also eligible for ceramic braces. Both can be used to straighten crooked or crowded teeth, close gaps, or correct bite problems such as an overbite, underbite, and crossbite. Of course, we'll need to examine your mouth first to decide whether ceramic braces are truly right for you.