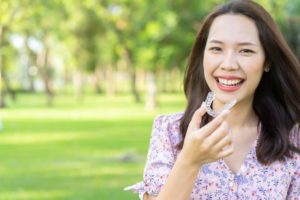 Are you putting off orthodontic treatment at the thought of hassling with brackets and metal wires? Fortunately, you can straighten your teeth without having to deal with such issues. Thanks to Invisalign in Atlanta, you can discreetly and comfortably work towards a straighter, healthier smile. For successful treatment, you'll need to wear these clear aligners no less than 22 hours per day. Although that may seem like a tall order, your orthodontist knows some actions you can take to easily meet Invisalign wear time.
How Does Invisalign Work?
First and foremost, it's important to understand how Invisalign works. The modern orthodontic treatment uses a series of clear aligners to gently guide your teeth into their ideal positions. Each set of trays is worn for a predetermined amount of time, usually about two weeks.
They apply slight pressure to a portion of your smile until it is fully aligned. You'll visit your orthodontist approximately every six weeks to ensure everything is running smoothly and going according to plan.
Why Does Invisalign Wear Time Matter?
Invisalign gently moves teeth into better alignment via small shifts that occur over several months or longer. The reason why these movements are so gradual is that it ensures the patient feels minimal discomfort throughout the treatment process. Since the aligners are only effective when they're in contact with teeth, they must be worn for at least 20-22 hours to achieve the desired results.
With that being said, the plastic trays are designed with the assumption that patients will comply with this rule. Neglecting to stick with your treatment plan can lead to complications, discomfort, and even treatment delays.
How to Fulfill Your Daily Plan
Some people find it difficult to meet the recommended 22-hour wear time. Here are some Invisalign tips that can make this feat easily achieved:
Multitask while wearing the aligners. When your trays aren't in your mouth, consider placing them in a glass of water with cleaning crystals so they can disinfect while you're eating.
Practice good oral hygiene. It's strongly recommended that you brush, floss, and rinse immediately following your meals and before you slip your aligners back in your mouth.
Advance to the next set of trays before bed. By doing so, you can sleep through the initial discomfort and avoid the urge to take your trays out.
Remove the aligners for a set amount of time. Taking them out for 15 minutes at breakfast, 30 minutes at lunch, and 60 minutes at dinner will provide you with some extra time each day for eating or cleaning your teeth.
Use an app. An app called Tray Minder can help you track your wear time throughout the day.
Meeting the recommended Invisalign wear time isn't as difficult as you may think. By following the tips outlined above from your orthodontist in Atlanta, you can easily stay on track with your treatment plan and have the smile of your dreams in no time!
About the Author
Dr. Michael Everson earned his dental doctorate from Indiana University. Today, he is board-certified by the American Board of Orthodontists, which is a distinction held by less than one percent of dentists in Georgia. As a married father of two, the day may come when Dr. Everson considers Invisalign treatment for one of his children. If you or someone in your family are interested in Invisalign, zero percent in-house financing is available, and you can trust in Dr. Everson and his 15 years of orthodontic experience. You can schedule a complimentary consultation on his website or call (404) 697-7497.